Four Trees (2021)
Director
Watch on YouTube
Concieved, shot and edited in collaboration with artist Alison Choi.
---
Hyde Park (2020)
Art Director, AD
Watch on YouTube

A music video for artist TALIA. Additionally, I took the image used in the cover.
---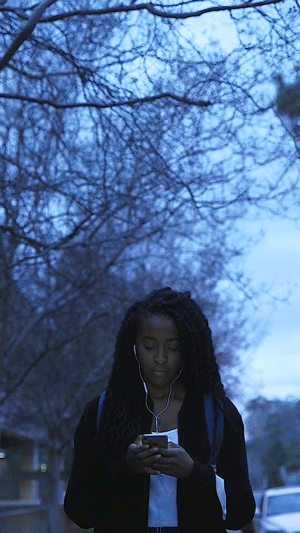 Far Out (2019)
Producer, Director, Editor
Watch on Instagram: @FarOut_TV


A transmedia, narrative series designed for Instagram TV, developed with Instagram and Buzzfeed. The series premiered successfully on Buzzfeed's IGTV on May 2nd.

The story of a college student and her struggles with love and friendship was told over 5 weeks in real time on 7 different Instagram accounts and 1 Tumblr Blog. It was a mixture of traditionally shot and edited short films and Instagram content coming from each character.

It seeks to interrogate the 9:16 aspect ratio on traditional narrative storytelling, the role of handheld entertainment, and the nature of performative behaviors on social media as part of it's storytelling.

The project was developed at Buzzfeed and Instagram's incubator program, #VerticalU, and as part of my Senior Fall Media Studies project (for Honors). FAR OUT was one of only fifteen projects selected to receive funding from both companies, and I was invited to speak as one of five representatives at Instagram's New York #VerticalU premiere to industry leaders.

*Best viewed on mobile device
---

Waiting For Monday (2019)
Producer, Director
Watch on Instagram:
@Waiting_For_Monday
A transmedia, narrative series designed for Instagram TV. Created as my Senior Media Studies Capstone Project, awarded the Payton Watkins '09 Media Studies Award at the time of graduation in May 2019.
The precursor for @FarOut_TV, Waiting for Monday is a similarly designed transmedia narrative hosted on Instagram TV.

It is a slice-of-life story following two sisters on a roadtrip to their grandma's before the oldest goes to college. Split into two parts, the episode was a concept pilot for a show that was going to expand on each of the sisters, with 3-5 minute real time drops, specifically designed for viewing on a mobile phone.

The relationship between the sisters was explored in the cinematography, utilizing the aesthetics of the unique 9:16 frame. Additionally, the intimate relationship of the viewer to the characters as a result of the handheld entertainment was explored in the use of graphic overlays that appeared as if the viewer was recieivng the phone calls and text notifications meant for each character. (This was a fun and successful element that caused one of my teachers to pause the viewing to try and answer the call!)



*Best viewed on mobile device
---
BABYTEETH (2018)
Director

2 minute assignment for class, prompt was "Montage"

A call to arms, a celebration of womanhood.
---
TODAY I FEEL (2018)
Director
A short visualization inspired by our consumer culture and the creation of our social and digital identities.
---
Heel (2016)
Producer, Production Designer
Independantly written, developed and shot within 2 weeks in Hong Kong.




A short film exploring love and melancholia in it's many forms.